Learn from anywhere and take control of your learning.
Personalised one-on-one online academic coaching with one of our expert New Zealand based NCEA and IB tutors.
Improve your teen's grades, skills and motivation
Equip your child with strategies for academic and long-term success
A tutor selected specifically for your child's personality and academic goals
Advantages of online tutoring:
Tutoring can take place at a time of your choice without having to leave your home.
Lessons can be recorded so the student can replay the lesson at their convenience.
Our high quality video conferencing service ensures a interruption-free online tutoring experience.
Shared notes and the lesson whiteboard can be downloaded by the student as a PDF.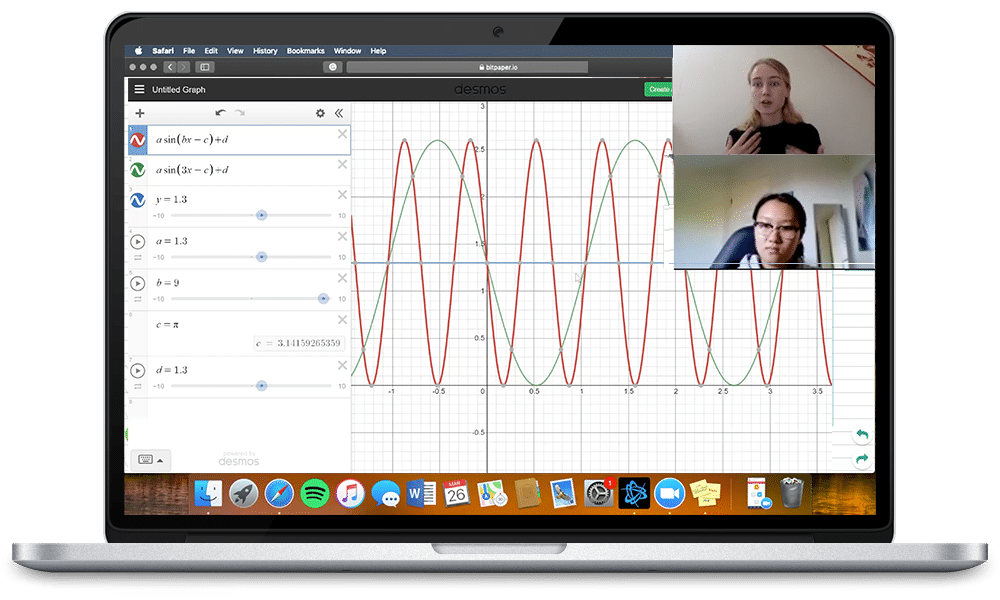 Our Tutors.
A great tutor isn't someone who just helps your child with Maths homework, but someone who helps them grow as a person and builds their confidence.
Tejas
Amelia
Alister
Rhianna
Raaghav
Tejas
Amelia
Alister
Rhianna
See online tutoring in action.
It's the perfect time to get started.
Help your child get ahead for 2022. Contact us now before spots run out.

1. Get in touch
Tell us about your child, what they're struggling with, their personality, passions, and academic goals.

2. Free strategy session
We'll handpick a tutor best suited towards your child's personality and goals and have them meet your child for a free strategy session to plan how Inspiration Education can best help your child succeed this year.

3. Weekly lessons
Our lessons cover the content that your child is working on at school, as well as equipping them with holistic strategies and tools that will help them succeed academically and in the wider world.
The tutoring is great
My daughter is really really happy with her French lessons. I have seen her less anxious and she is enjoying the subject which is really important. Can't thank you guys enough.
Sneha Sadani
Parent
Our tutor was great!
My daughter was struggling with Maths to the point we thought she was going to fail NCEA Maths level 1. We decided to get a tutor, Inspiration Education had been recommended to us. Our tutor Maddy was great, and my daughter started making gains right from the first lesson. We got her exam results yesterday, she passed Maths with a merit. This would not have been possible without Maddy's help. I recommend Inspiration Education.
Tania Martin
Parent
Very highly recommended
I am so pleased with my daughter's tutoring with Inspiration. Her tutor is wonderful. He has a very kind and pleasant manner and she always understands his teaching sessions. Both the tutor and admin/accounts were extremely helpful when my daughter's sessions had to be interrupted unexpectedly last year and have provided ongoing support since then. Very highly recommended.
Jenni Eatherley
Parent
I would recommend online tutoring to any parent!
My daughter was struggling to achieve in science and due to my work commitments I could not take her to a tutor. She started online tutoring from home with IE and after 10 lesson achieved an excellence in Genetics! Her tutor was like a cool big sister to her and she enjoyed the sessions and looked forward to them each week. I would recommend online tutoring to any parent. My daughter is having weekly Biology tutoring sessions this year and we are so grateful she has the same amazing tutor this year also.
Sue Stewart
Parent
Great idea in these uncertain COVID19 times
We live in a rural area and use Inspiration Education online tutoring. This is our second child to use this. Easy to use. Convenient as the times can be flexible if it suits both the student and tutor. My son even used his study periods at school. Just need a laptop and headphones. Definitely recommend using online. Might even be a great idea in these uncertain COVID19 times.
BJ Roche
Parent
Tailored to my learning disability
Will tutored me for 5 years (perhaps more). I have ADHD, and for somebody that has difficulty focusing, his teaching style was specifically tuned to my specific needs. I am now perusing a career in medicine, which would have not been possible without Will. Will was more than a tutor, and helped me with techniques e.g. how to study, what to do about procrastination, and he helped me find WHY, which helped motivate me. Also, struggling with mental health was not a problem for Will, as we sat together often making plans, which helped me tremendously. If I could give more than 5 stars, he is the first person I would do this for.
Ana Aburn-Popova
Student
Helped with Dyslexia
Inspiration Education has an incredibly professional staff, which aids in all of their students success. As someone who has Dyslexia, without their tutors, I would not have done nearly as well as I did in high school, let alone gone to University.  I am extremely grateful for all of their efforts, and the level of help they have offered from specific courses to the basics of essay writing, organisational skills and referencing.
Arjun Pole
Student
Reduced my stress levels
I've been going to a tutor for a number of months now (Fraser). He has been so helpful in explaining and clarifying the areas that I have needed to catch up on having been out of school for 2 months. He's really patient and his explanations are so clear, I don't think I would have been able to catch up on all the material I missed without him. It's really reduced my stress levels and I'd definitely recommend getting a tutor to anyone who needs some extra help.
Ella Price
Student
From 3 years behind the writing curriculum in Year 9 to English Scholarship in Year 13
I was supported by my tutor (William) for my entire high school experience. I had always struggled academic subjects, English in particular. My English level starting in Year 9 was that of a Year 6. Having William as my tutor not only helped me overcome the challenges I had with these subjects, it gave me the opportunity to excel in them. I finished my school career as an English scholarship student. So I'd say it was pretty worth to be honest.
Brendan King
Student
Of our students achieve NCEA with a Merit or Excellence endorsement
Of our customers would recommend us to a friend
What else does online tutoring offer?
Greater availability
Online tutoring provides flexibility to those with busy schedules. Sessions can take place during time-slots where face-to-face tutoring would not be possible, such as in the late evening. Also with travel time out of the question, both student and tutor are afforded more free time to get on with other stuff!
Exclusive digital resources
Online tutoring allows for a range of digital classroom possibilities – a collaborative whiteboard, seamless file-sharing, screen-sharing capabilities, videos and more. Once the lesson has finished, the student can receive a recorded copy of their lesson and retrace their exact steps if they get stuck again. The result is an interactive and diverse learning experience for both tutor and student
Trial our tutoring service by booking in a risk free lesson.
We want to make sure we're the best fit for you or your child. For this reason, we offer a 30-minute strategy session free of charge where we will send you a detailed action plan. Tell us more about your needs and we'll be back to you within 24 hours.